Reliasys Software organizational structure, skilled team of professionals and development methodology allow us to meet the specific demands of each customer in an efficient, cost-effective manner. Our Software Development Methodology adopted for any software development project uses both structured and object oriented approaches.
Our software development process consists of the following steps: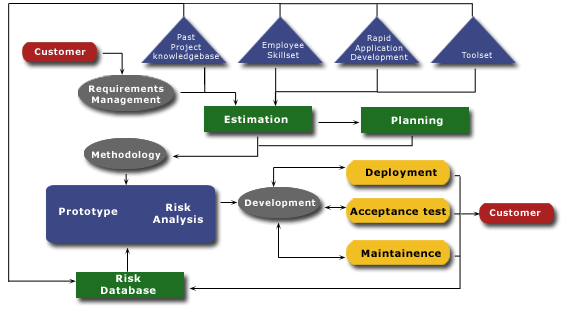 Requirements Definition - Following initial meetings with the customer and Reliasys, our team of business analysts understand the client requirements and document the project scope, provide an estimate of the project costs and time lines.
Requirements Specifications - During this phase detailed requirements are gathered , business process are understood. At the end of this phase a detailed specification document is prepared and given to the client for signoff.
Development and Testing - Employing iterative prototyping the system is built. The development process remains under version and change management controls. Using project management and monitoring tools various tasks are monitored, necessary correction made and deadlines adhered to. Prior to delivery to the customer, the system is fully tested using automated testing tools (both functional and load testing). We develop additional testing procedures together with the customer to further test the developed software.
Quality Assurance - A separate QA team, does an independent Quality Assurance for the code being developed. This ensures that the quality of the software being developed adheres to accepted standards.
Deployment - When the system is fully deployed, we deploy it at customer site, handhold the users for an agreed period of time, and conduct training during this period.
Maintenance - Reliasys covers all software that it develops, under warranty. Subsequent to the warranty period, Reliasys maintains the software for the customer under a separate maintenance contract.